Responsive Accordion Tabs
A collection of our latest work
Which do you use, tabs or accordions? Ever wanted both, depending on the screen size? Well now you can!
Let's face it, tabs on a mobile just don't work, you either have the tabs too close together or the tabs appear as a list and the content gets lost at the bottom. Response Accordion Tabs plugin solves these issues and offers a modern design to boot! Just drop your tabs into your page or post, using a shortcode and watch it change from accordions to tabs, depending on the device you use. What's more you can customise the screen size that it converts from.
Try below with a collection of responsive accordion tabs.
FREE Version!
Our Responsive Accordion Tab below demonstrates the transparent theme with horizontal tabs. Click through the tabs to view options available to you with our free version, including a lifetime of updates and installation support. If you're looking for premium features, including vertical tabs and custom styling take a look at our pro option below.
Are you looking for greater control and flexibility? Maybe you'd like vertical tabs or custom styling options? If so you need the Pro version, available with a trial!
PRO Version
You get all the customisation from the FREE version PLUS the option to have vertical tabs and custom styling so you can really blend your tabs with your theme.
Vertical Tabs

If you have a large number of tabs or just want to ensure your tab content appears as high as possible then the pro version offers you the ability to select vertical tabs.
Custom Styling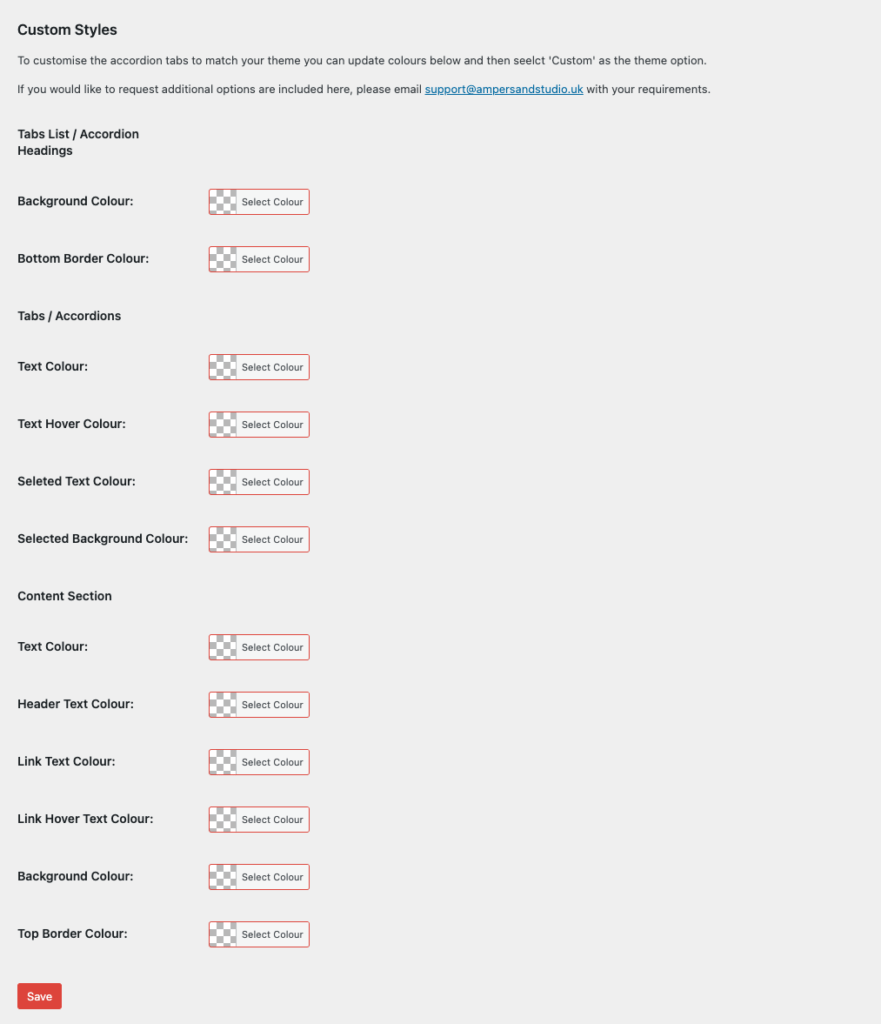 If the 3 themes that come as standard don't quite do it for you then we provide a number of styling options to change tab colours and background colours so you can mix and match transparent areas with coloured areas.
RGBA colours mean you can set your own level of transparency for the colours too.
Accordions on Mobile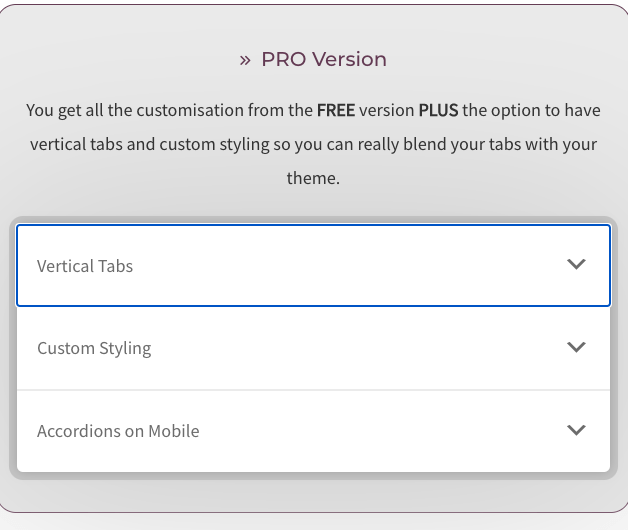 If you downsize your screen or view this page on a mobile you will see how your tabs automatically display as a more friendly accordion, making the best use of your page space.